With temperatures falling and the evenings drawing in we felt it was the ideal time to get back into our movie going this week and, we've done that with a vengeance. We started with Frank at Little Lightning here in Framlingham which I wrote about in my last blog and we followed it up with Pride at the Aldeburgh Cinema on Tuesday evening.
It's one of those quintessentially English movies such as Bold As Brass andThe Full Monty which centres on a working community fallen upon hard times (usually due to the wicked Margaret Thatcher) but brought together by a mutual passion (brass band, strip act and now the miner's strike/gay and lesbian rights). It tells the fascinating true story of how a group of LGBT men and women, tired of being victimised, decided to show solidarity with another victimised group by openly supporting and collecting money for a mining community in Wales during the notorious 1984/5 industrial action.
The film centres on the prejudice of both those that the gay group is trying to support and the community in general and it is funny and heartwarming even if a little predictable. In a very standard three act formula we open with the Pride march in London, move to Wales and close back in London with the following year's Pride march. In between there is plenty of comedy based mostly upon the open mindedness of elderly Welsh women (Imelda Staunton in particular) and gender confusion within the mining community. For me the highlight was a scene in the working mens' club when the flamboyant Jonathan played by Dominic West takes the audience by storm with an outrageous dance routine that brings the house down. It was good to see Bill Nighy playing against his usual type as an elderly Welsh union official and also good to see George MacKay's career continuing to flourish after his promising roles in Sunshine On Leith and Meg Rosoff's How I Live Now.
After Aldeburgh on Tuesday it was Woodbridge yesterday afternoon when we went to see The Grand Seduction a gentle Canadian film which reminded me of Local Hero. A young doctor is coerced into staying in Tickle Head, a tiny Newfoundland fishing community which must have a doctor if the inhabitants are to stand any chance of winning the bid to be chosen as the location for a major new factory. Whilst major new factories (especially in the petro-chemical industry) and beautiful coastal communities make strange bedfellows, the fishermen are out of work and on benefits due to quotas and industrialisation of the industry and want alternative jobs to maintain their dignity.
The humour in this film, which is gentler than that in Pride, centres around the community's duplicity, lead by the mayor (Brendan Gleeson), in trying to persuade cricket loving doctor (Taylor Kitsch) that, despite his fiancee thousands of miles away and his city loving ways, Tickle Head is the place of his dreams and to convince the city slickers that their tiny place has over two hundred residents AND a doctor. Although their methods are, to say the least, questionable, the message is that anything goes if it is for the good of the workers. The result is an enjoyable and entertaining 115 minutes of whimsy which, slightly puzzlingly, both opens and closes to the sound of orgasms throughout the harbour side houses and the implication that all is very fine in the world as long as everybody is enjoying conjugal harmony. Which may, I suppose, not be too wide of the mark.
Interesting to see in ITV's I Married The Waiter the other night that no less than three of the women involved in the programme had met their loves on the wonderful Greek island of Symi which is, of course, the loosely fictionalised Symos of my romantic novel.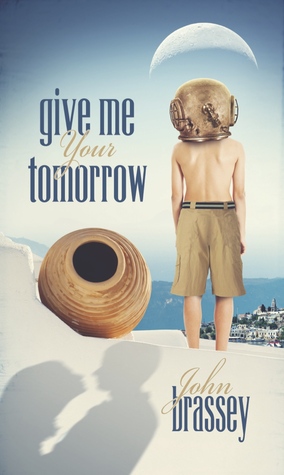 Enter to win